The project goal was to design a way to deliver McKesson's best healthcare software products quickly via the cloud as well as make it possible for third parties to leverage McKesson's software and APIs to create their own products.  The solution was do this by building an efficient, scalable, and automated cloud based infrastructure. The platform supported development, product management, product catalog, education, and account components, and performance analytics
For this project I began by analyzing the competitive landscape, market trends, business goals, and customer needs in order to better identify the product requirements. I also identified current state workflows for developers, product managers, and leadership.
Because a product like this had never existed before, many of the product requirements and specifications were defined in answer to design challenge that were revealed as we went along building a prototype.  Each build generated new questions. In turn this drove us to define the requirements a further. It also created an energized cross discipline team as a by-product.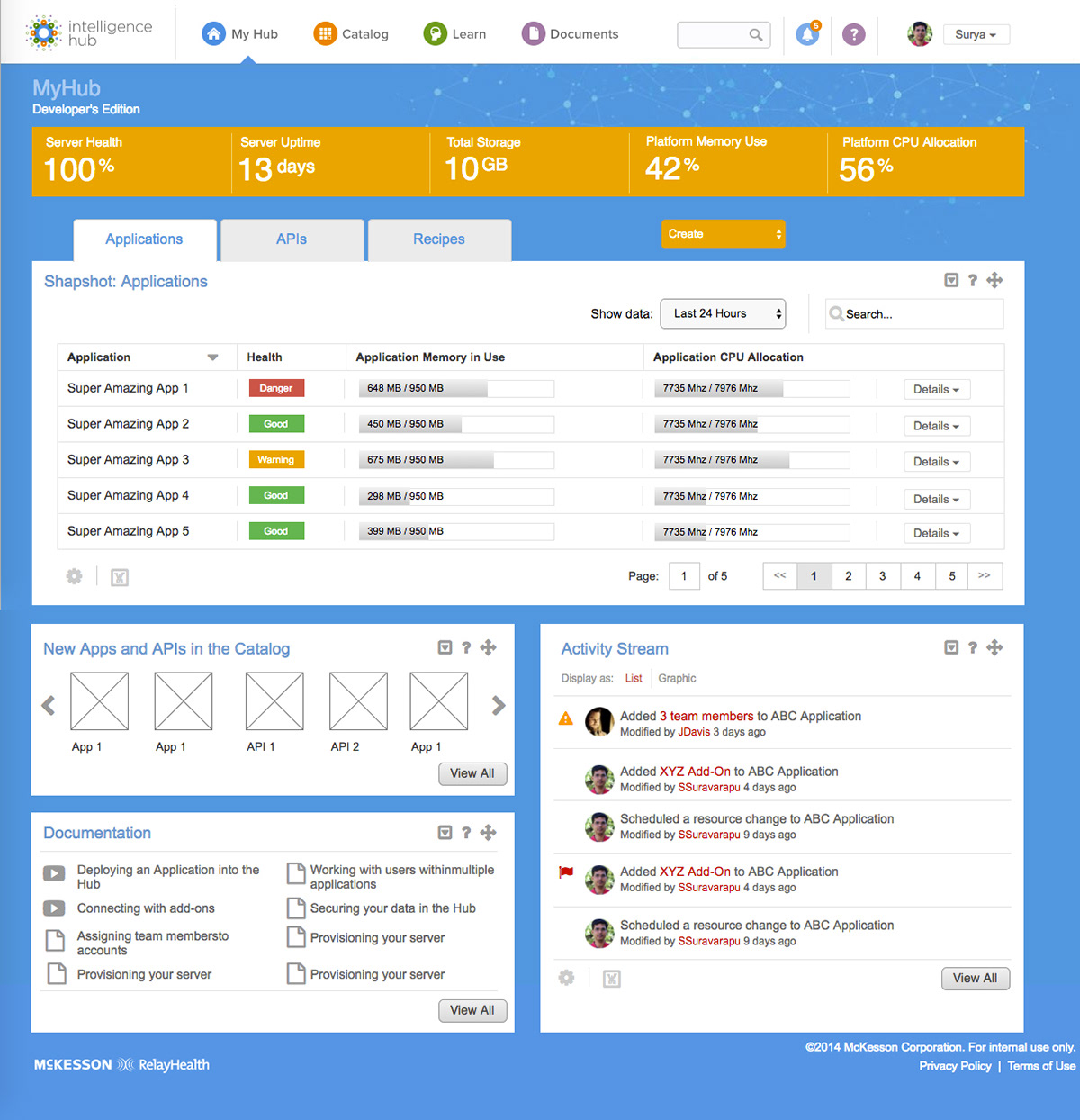 Developer's Dashboard. The tool separated developers from product managers at sign in. There was a huge number of iterations by me and the product manager on this page. Work here pushed the definition of requirements further than any other page did. Colors were not coming from a visual design strategy. Instead they helped us define segments of the Requirements Doc.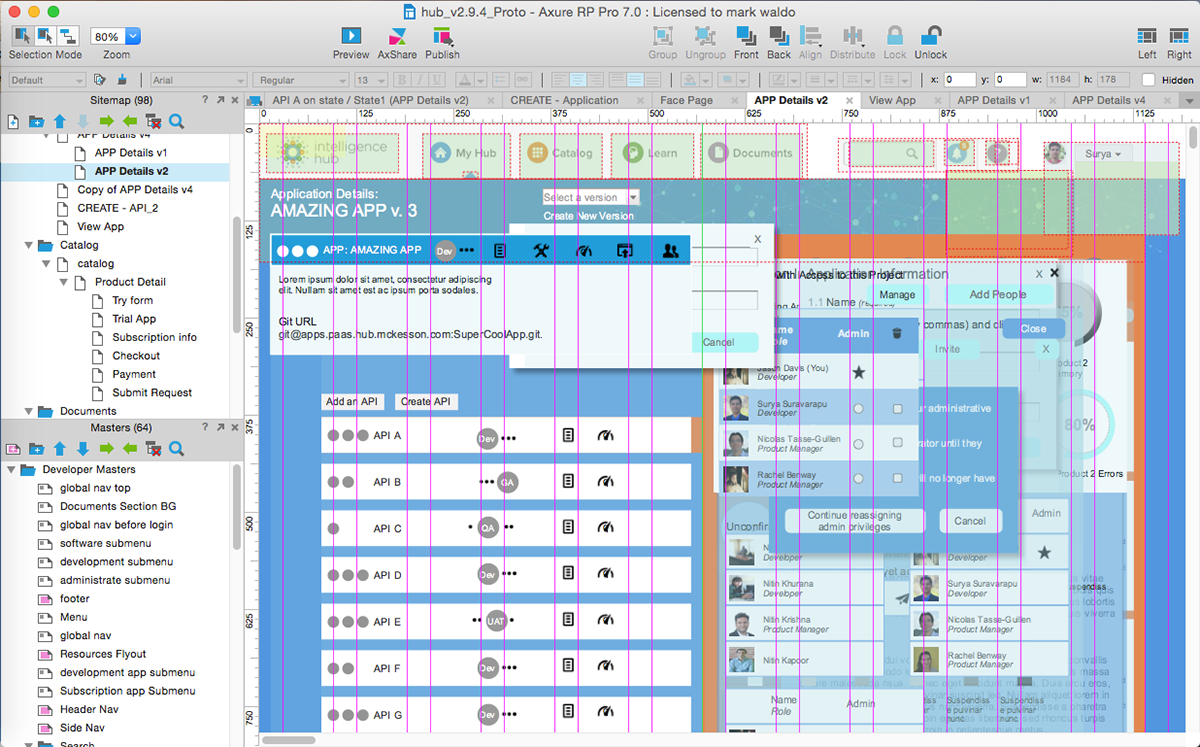 I developed all information architecture and screen level design in an Axure prototype. Here we see the API management page.  Axure is a bit old school but it's great for supporting requirements development. It's a good balance of being fast enough and deep enough.
Search Results allow multiple filters to be applied.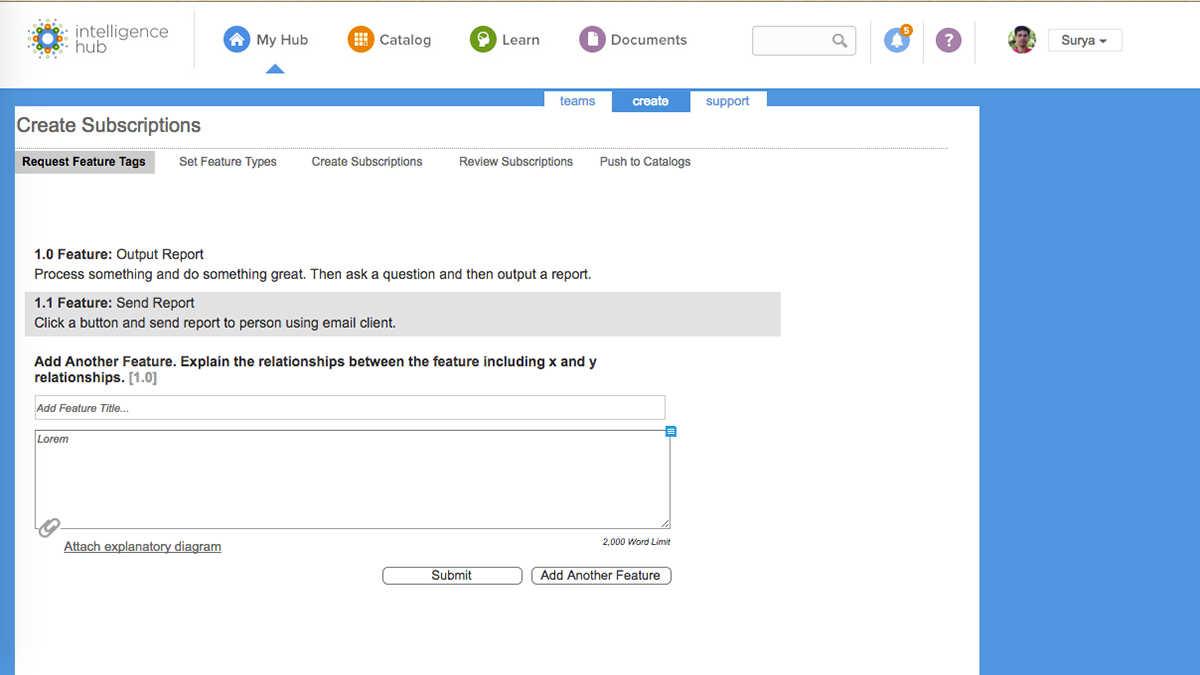 The prototype showed the full product manager workflow. And of course the full product manager workflow was shaped by the work we did on the design.
This screen shows how a product manger would select add-ons to an API from the API overview page.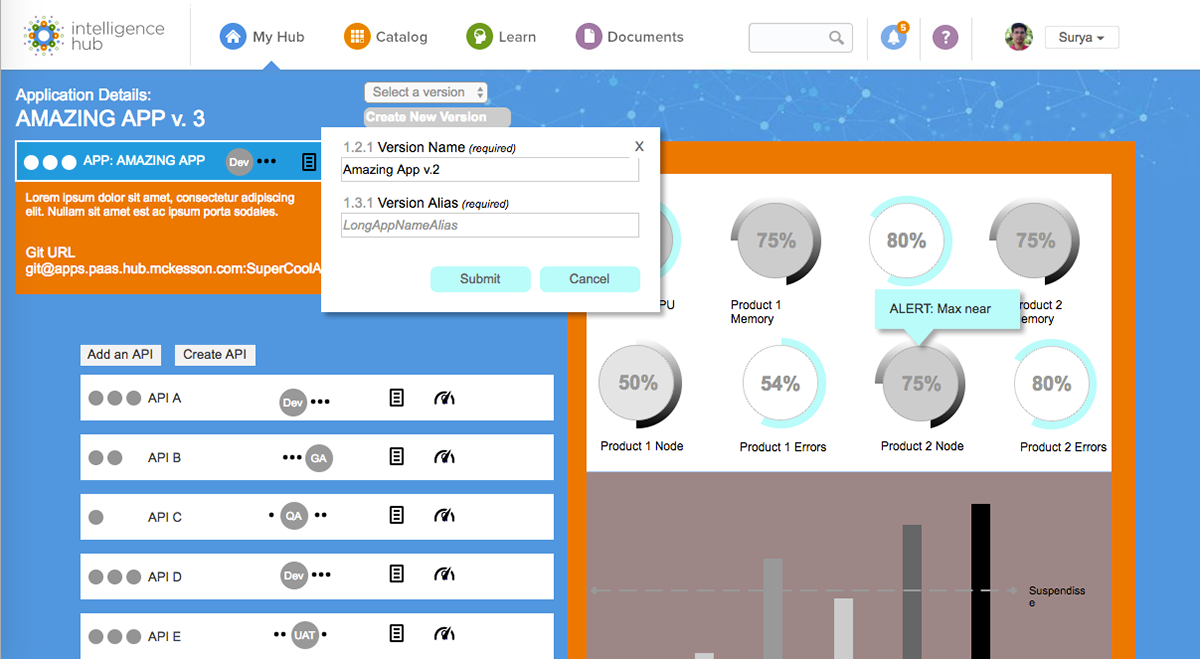 The API management page in the prototype allowed the client to explore dashboards, add APIs, do versioning, build a team, select add-ons, and more. Color here is in advance of actual visual design. I was just keeping the look compatible with some screens that had been designed.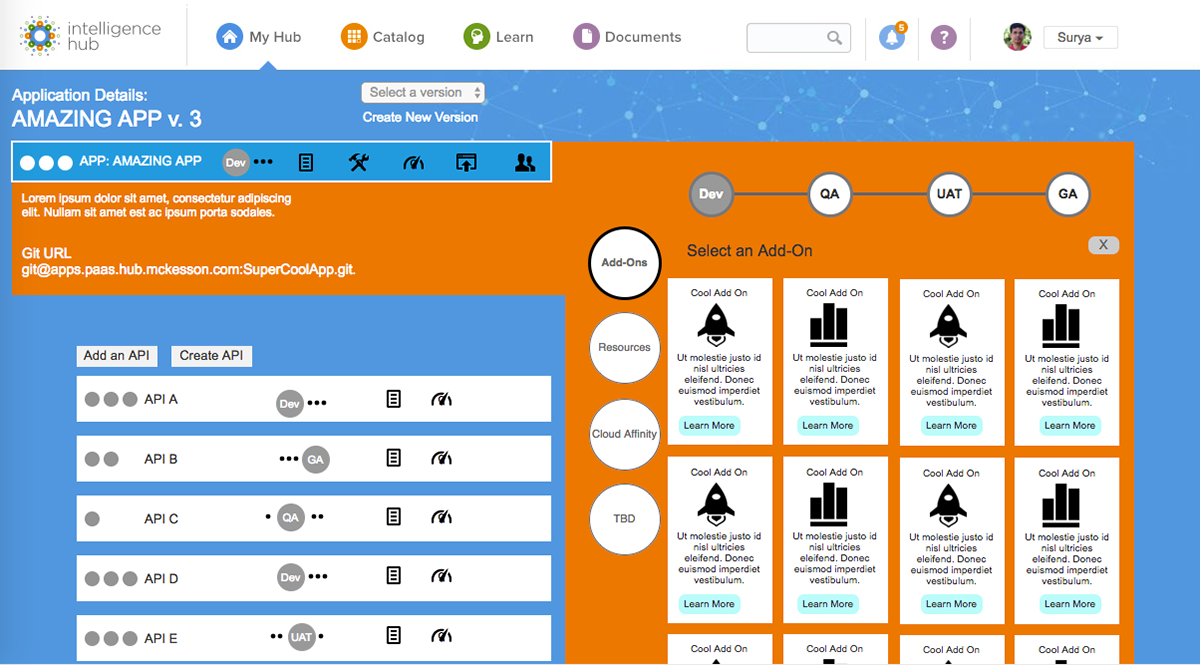 This screen shows the subscription review page for the product manager. Again, this is a wireframe, not a visual design mock.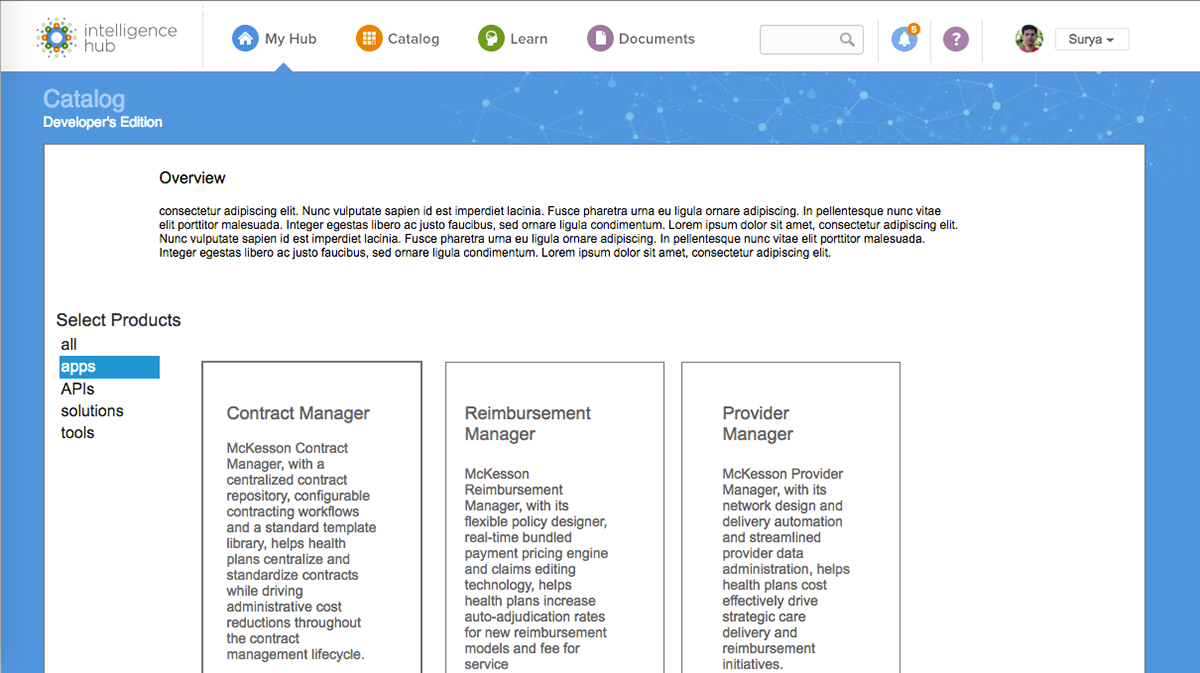 The project included the design of a product catalog with detail pages, test drives, a shopping cart, and related products.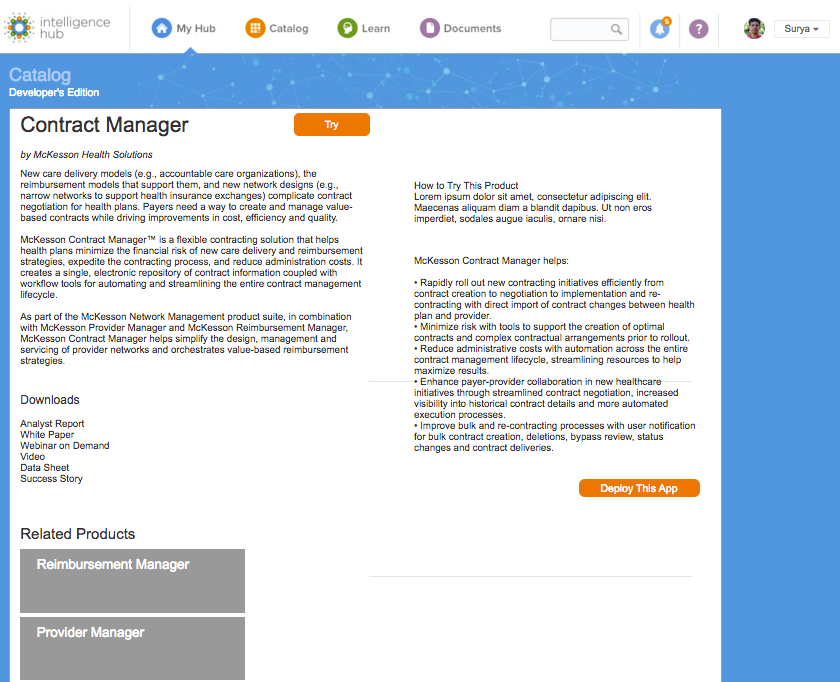 API product documentation page