As the head of product design at eHealth, I led design strategy conversations with the C-Suite, partnered with my peers in product and dev, creatively directed all work, and built up a diverse team that addressed both the needs of the business and its customers.

eHealth's design team amounted to two people who were working without a design leader when I stepped into my role. There was no research team, organized marketing design team or UX content capabilities. So I build the current multidisciplinary team from the ground up.


With this team in place I was able to quickly demonstrate to leadership at eHealth that they had a world class design team they could trust. Leveraging this confidence, I initiated a redesign of eHealth's primary content site and eCommerce flow to improve customer success in finding and purchasing insurance plans, as well as inspire greater customer confidence by modernizing the overall look and feel of the site. 
We were constrained to working with the existing color palette, logo and logo colors. But outside of that we could re-architect the site, restructure the visual design, address issues of accessibility, and add plenty of new features.
I also was the creative director on all work - helping to kick-off every project and regularly guiding and reviewing all work.
Working with my peers across disciplines we created a project that not only improved the look and brand of our two most important sites, but one that allowed us to modernize accessibility in our interfaces and code, and update analytics.
The Approach
The requirements were to visually reinforce that we were experts on Medicare, but were also approachable and friendly. We also wanted to communicate that we were trustworthy and modern. We also needed consistent design standards that also were accessible.
Working as a team with a Senior Designers
Amanda Yarmolich
and 
Jodie Li
, we took the brand in two directions to gauge where senior leadership at eHealth wanted to take the brand. I initially wanted the brand to not only be authoritative but softer than it was. Amanda Yarmolich working under my direction, developed the following initial design direction treatment. For an image style, I wanted to get away from the typical pictures of seniors on the beach. I found what I was looking for in this illustration by
Ana Hard
 - a depiction of vibrant activities that implied the senior doing them. 
While senior leadership appreciated the design, they were more inclined to projecting authority, so working with Jodie Li we arrived at the following visual direction. This direction  was approved by the C-Suite. We used both Frontify and Figma to manage assets. These are screenshots from Frontify.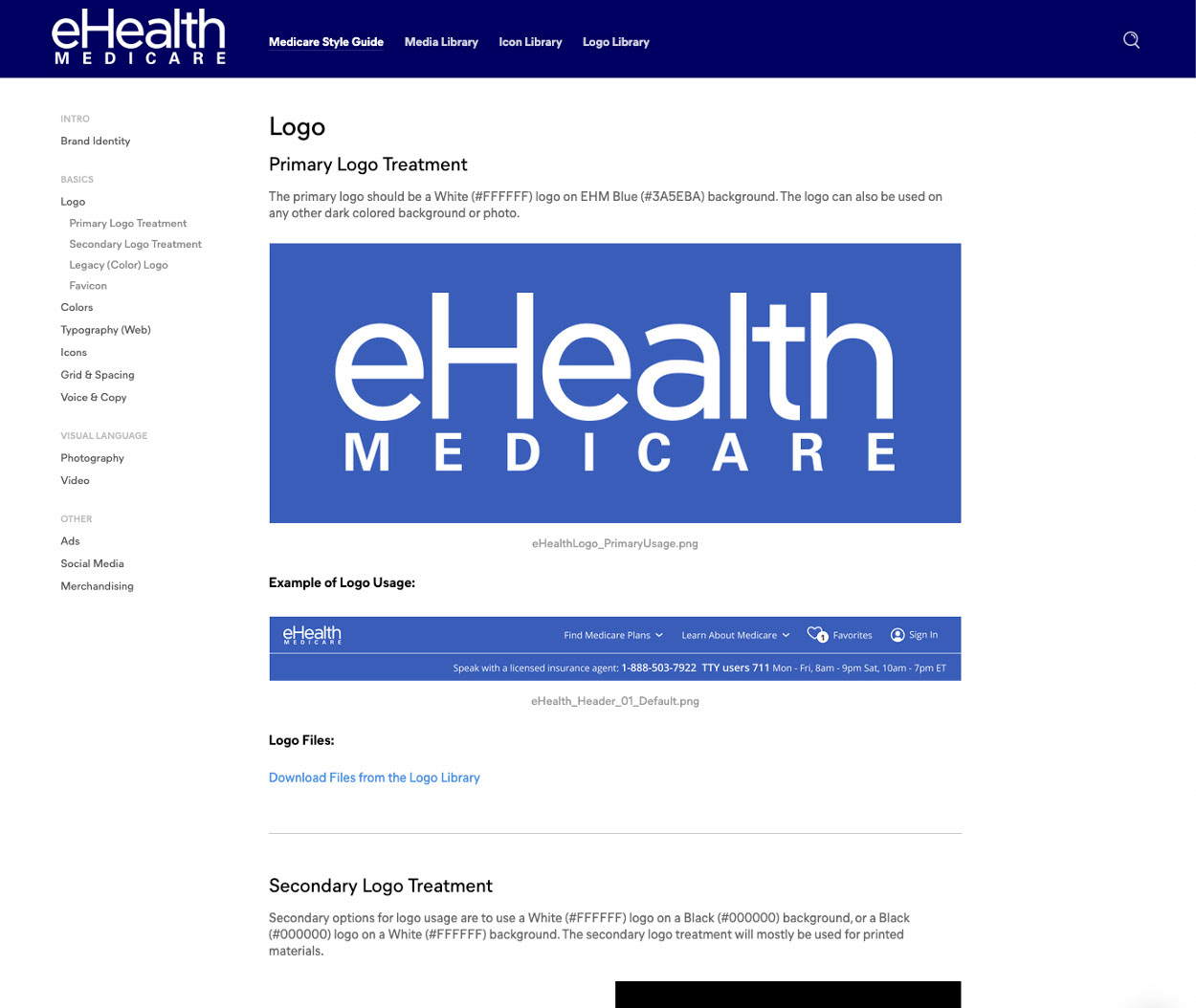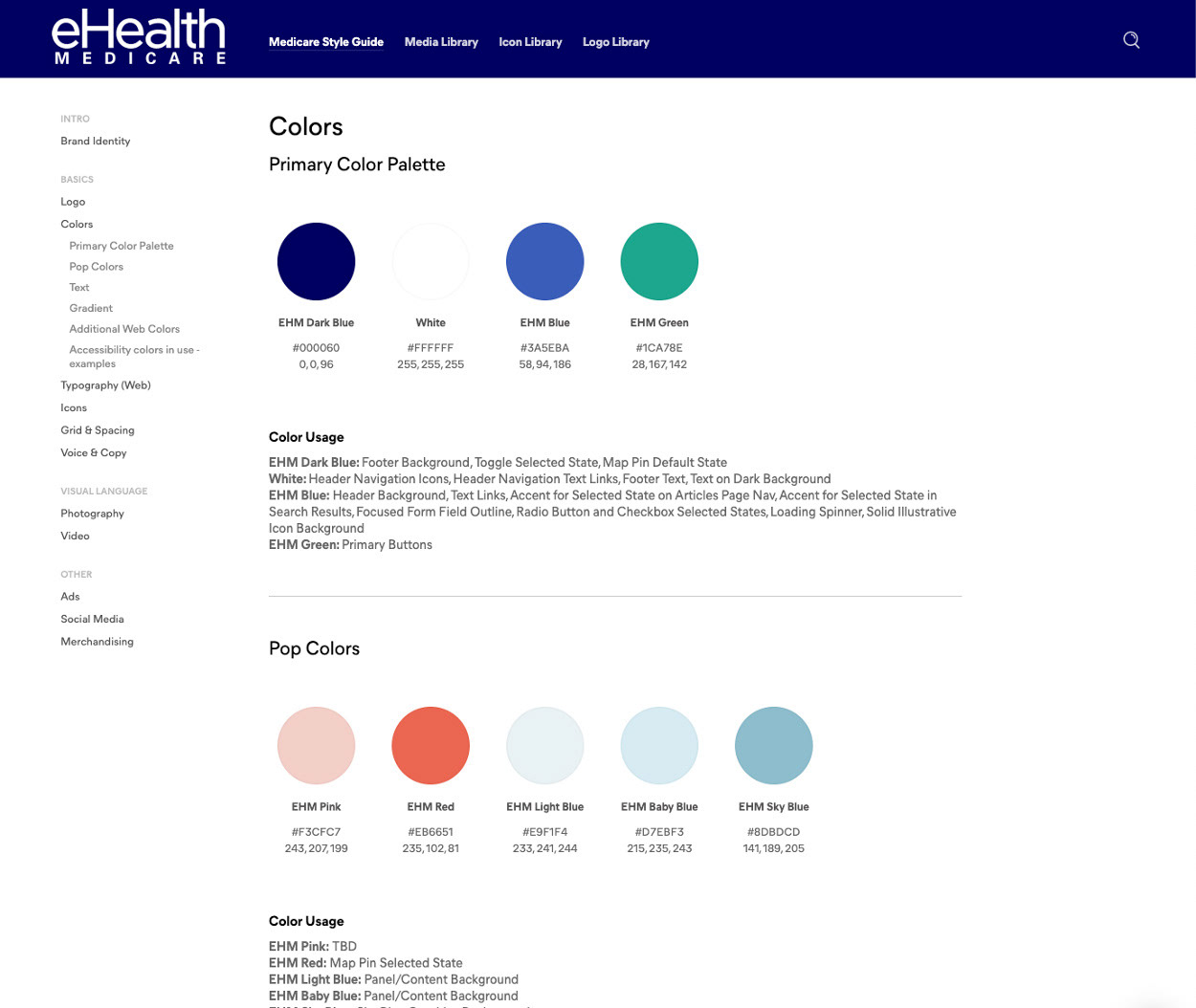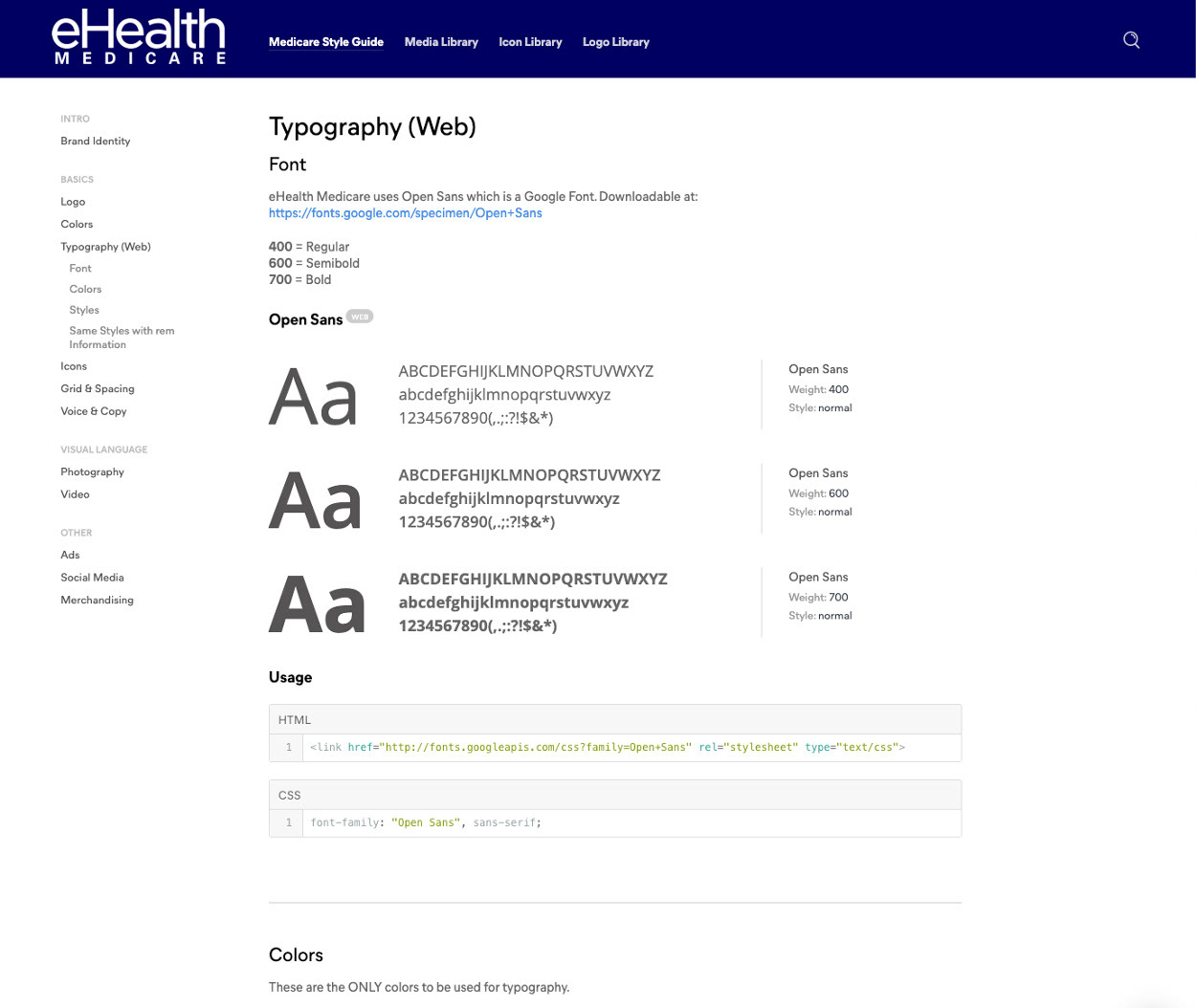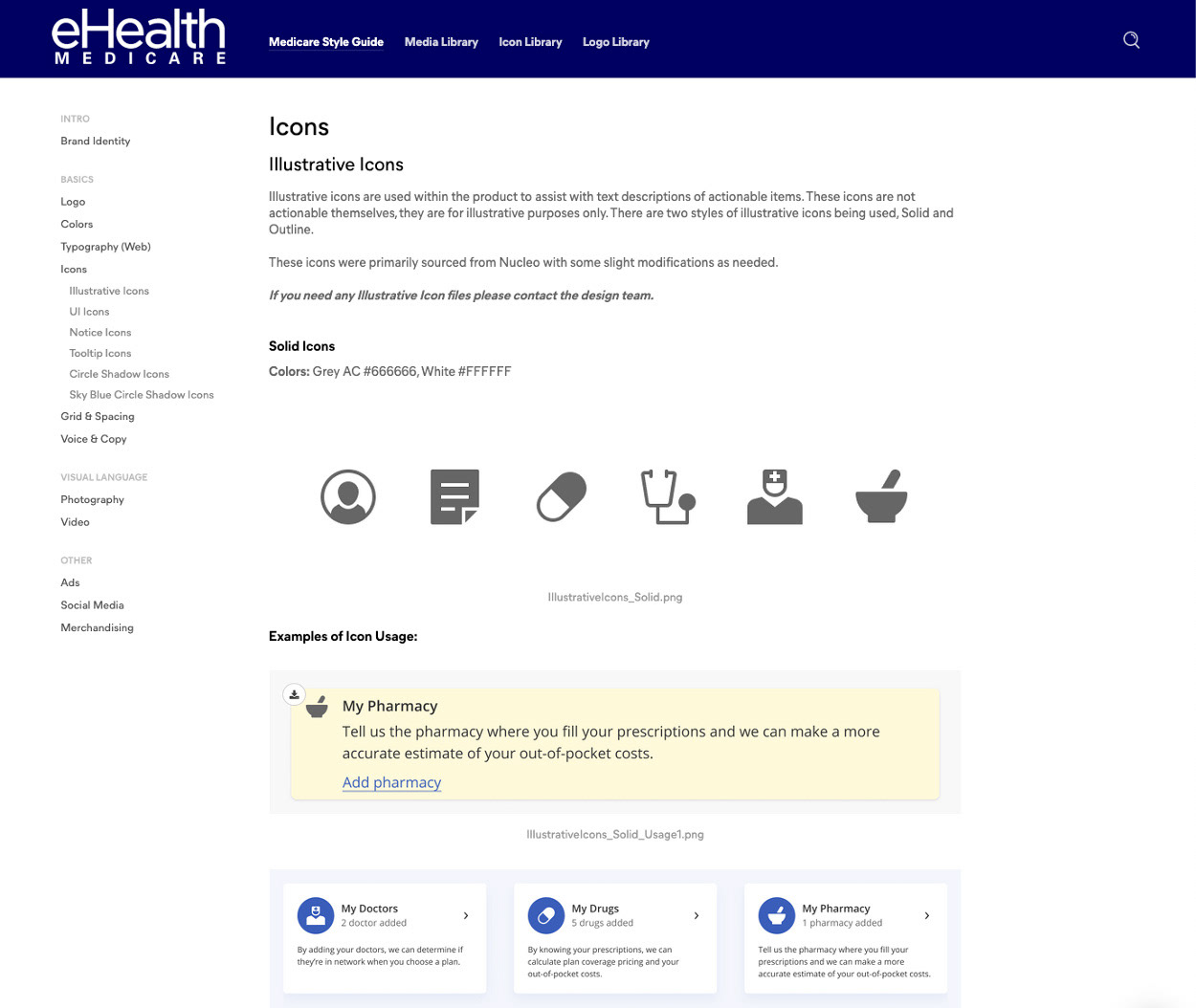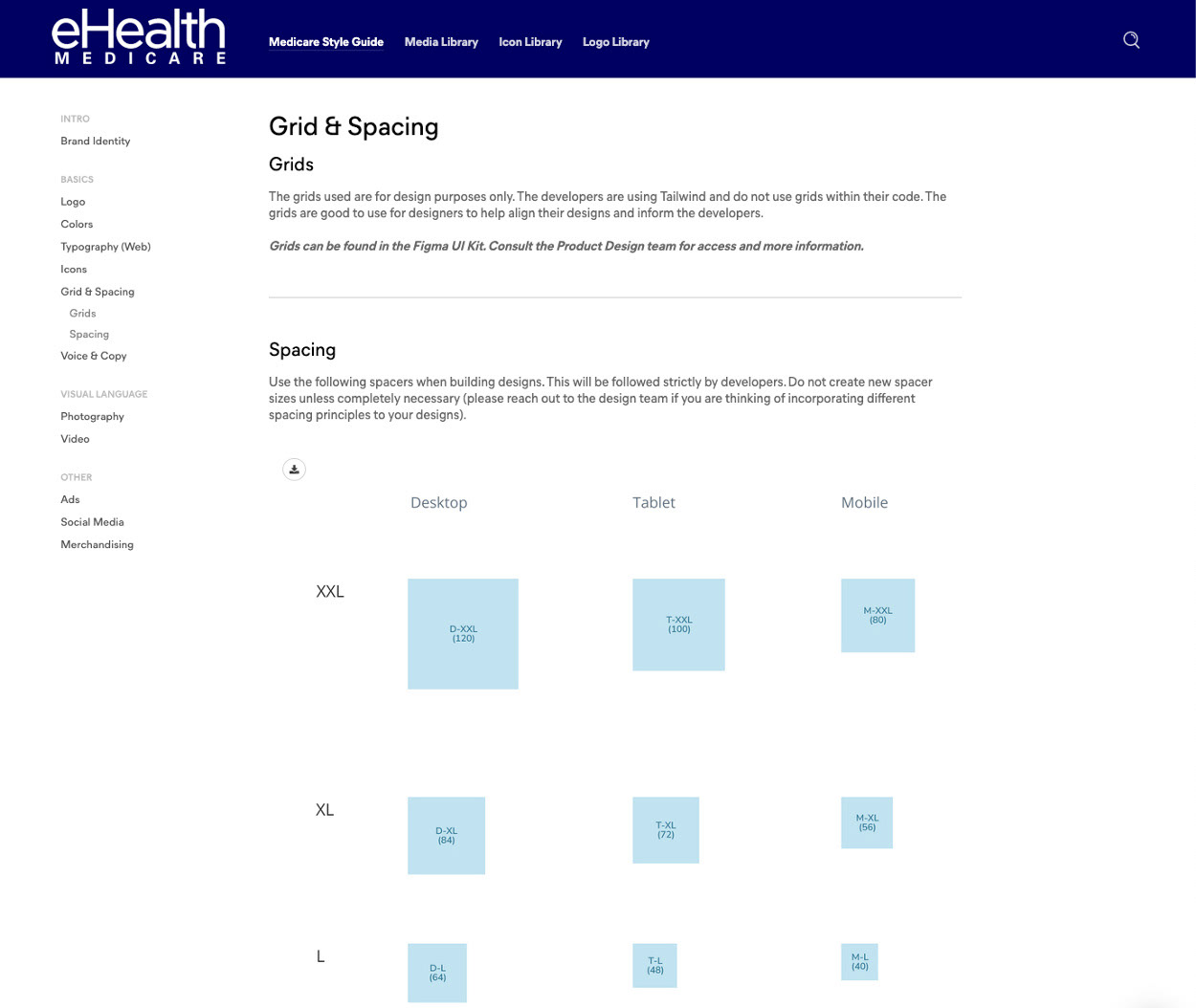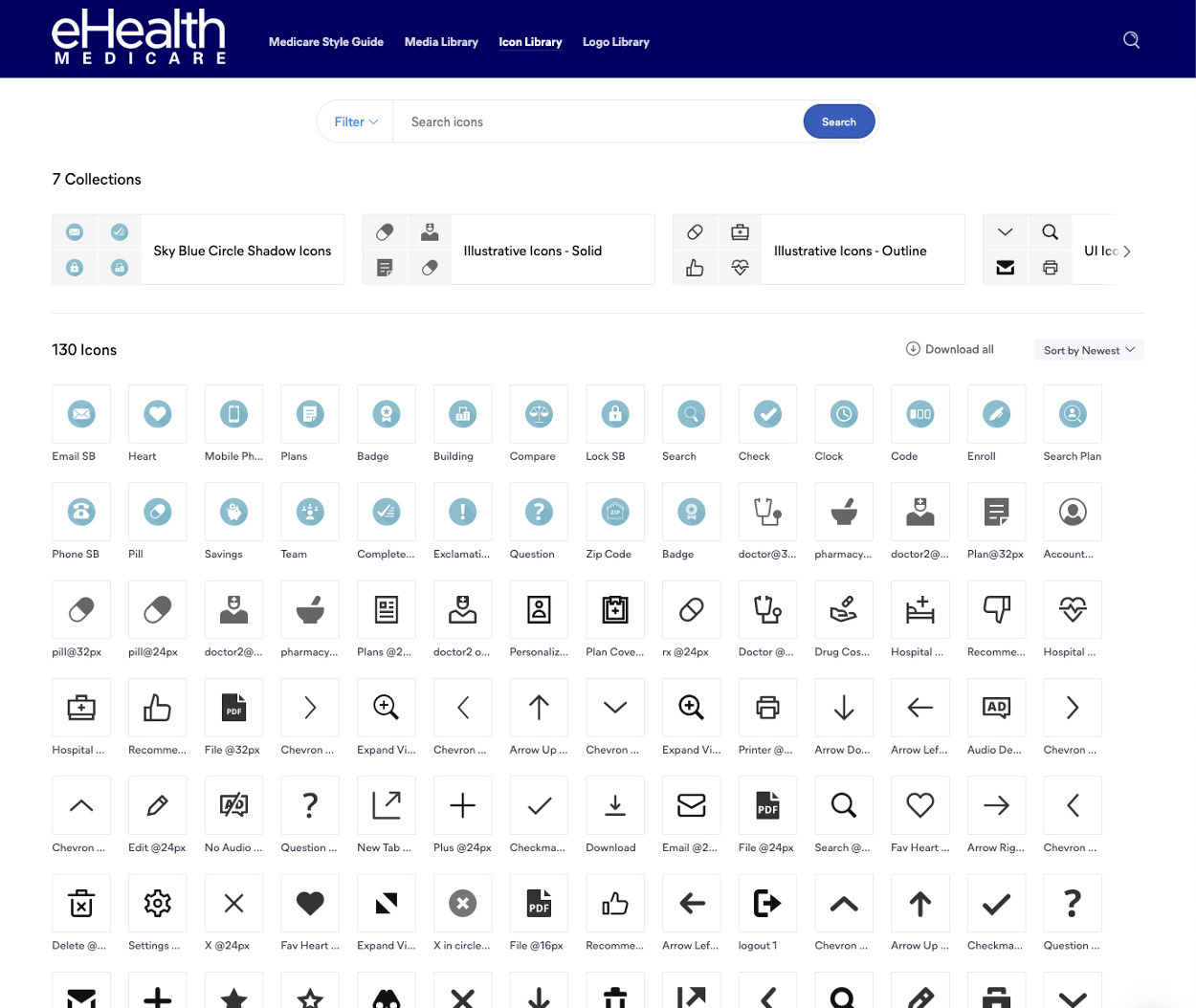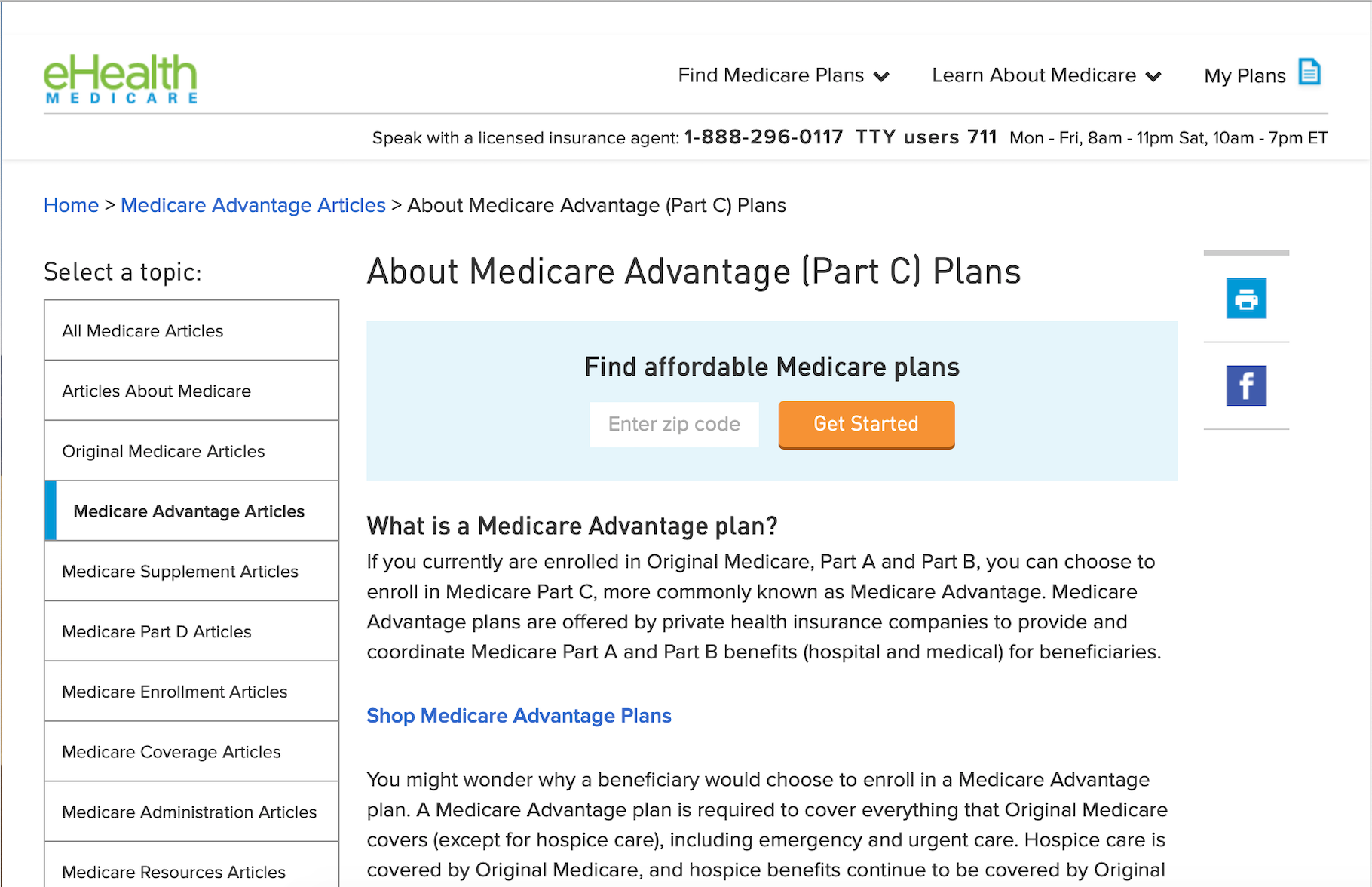 And The Same Page Following Redesign
Usability testing of the original content page design showed that the customers were having issues focusing on content on the page.
Working on the content section with the designer,
Andrew Whitmore
, we opened up space on the page to increase the customer's ease of finding what they were looking for, and rearchitected the page flow
This treatment was extended over 800 articles on ehealthmedicare.com
Analytics post launch verified that using our improved feature, medicare insurance customers were now much more able to find plans that included their doctors and drugs on their own online - without calling an agent. This was a huge win for us and something no other insurance agency was able to do online.
Many customer comments about these tools were nearing elation. Being able to do this on their own was huge for our customers.
Drug and Doctor Tools and Search Results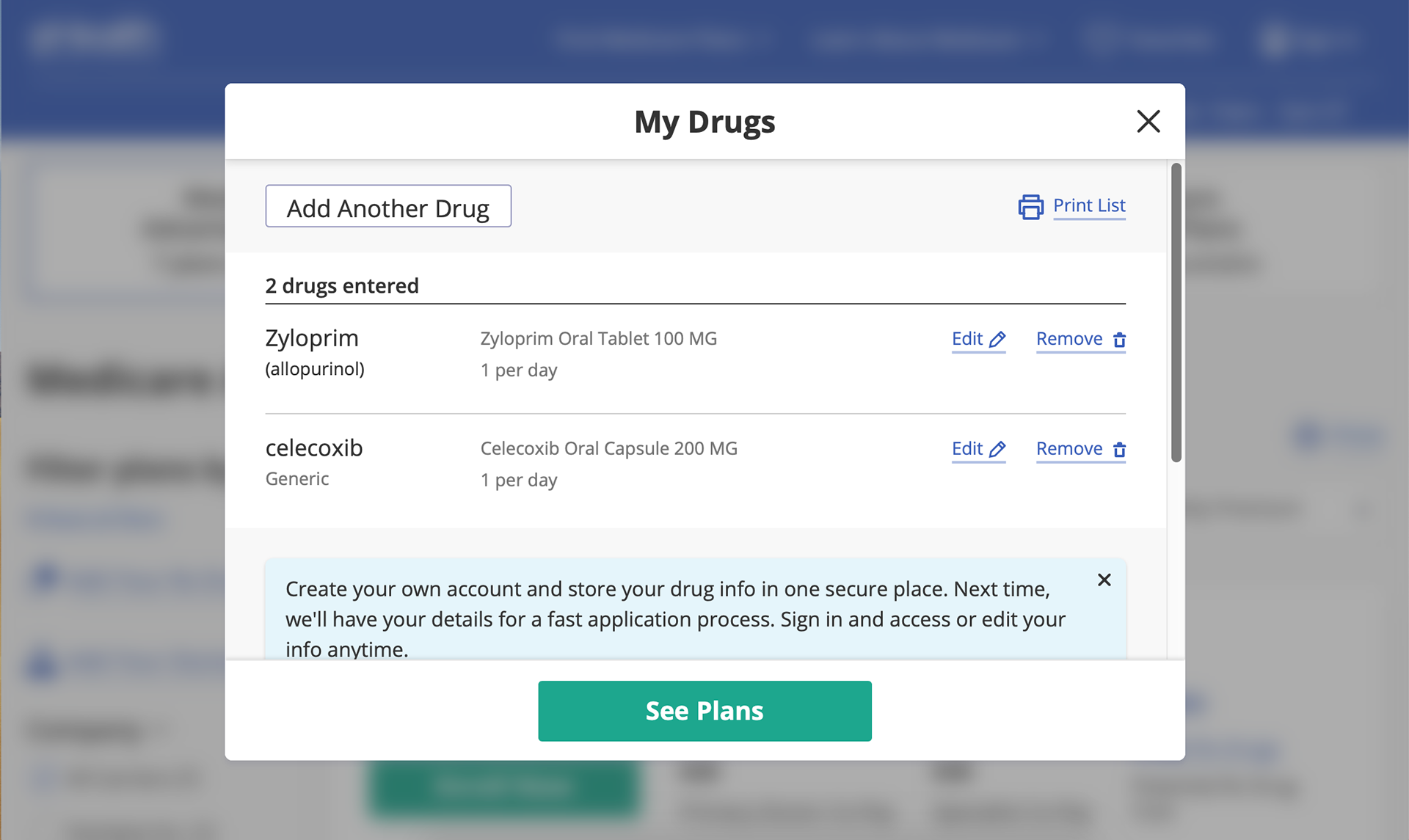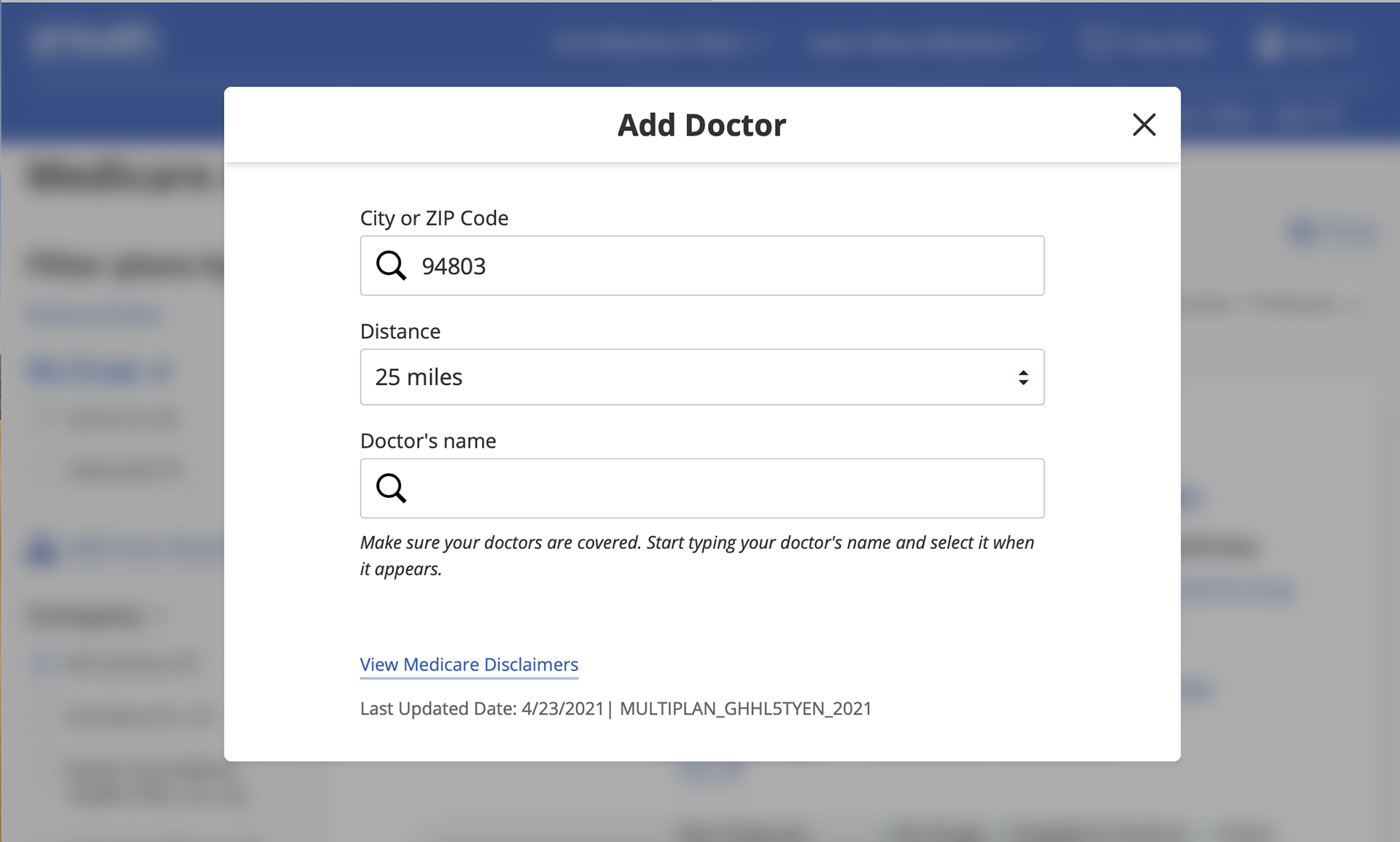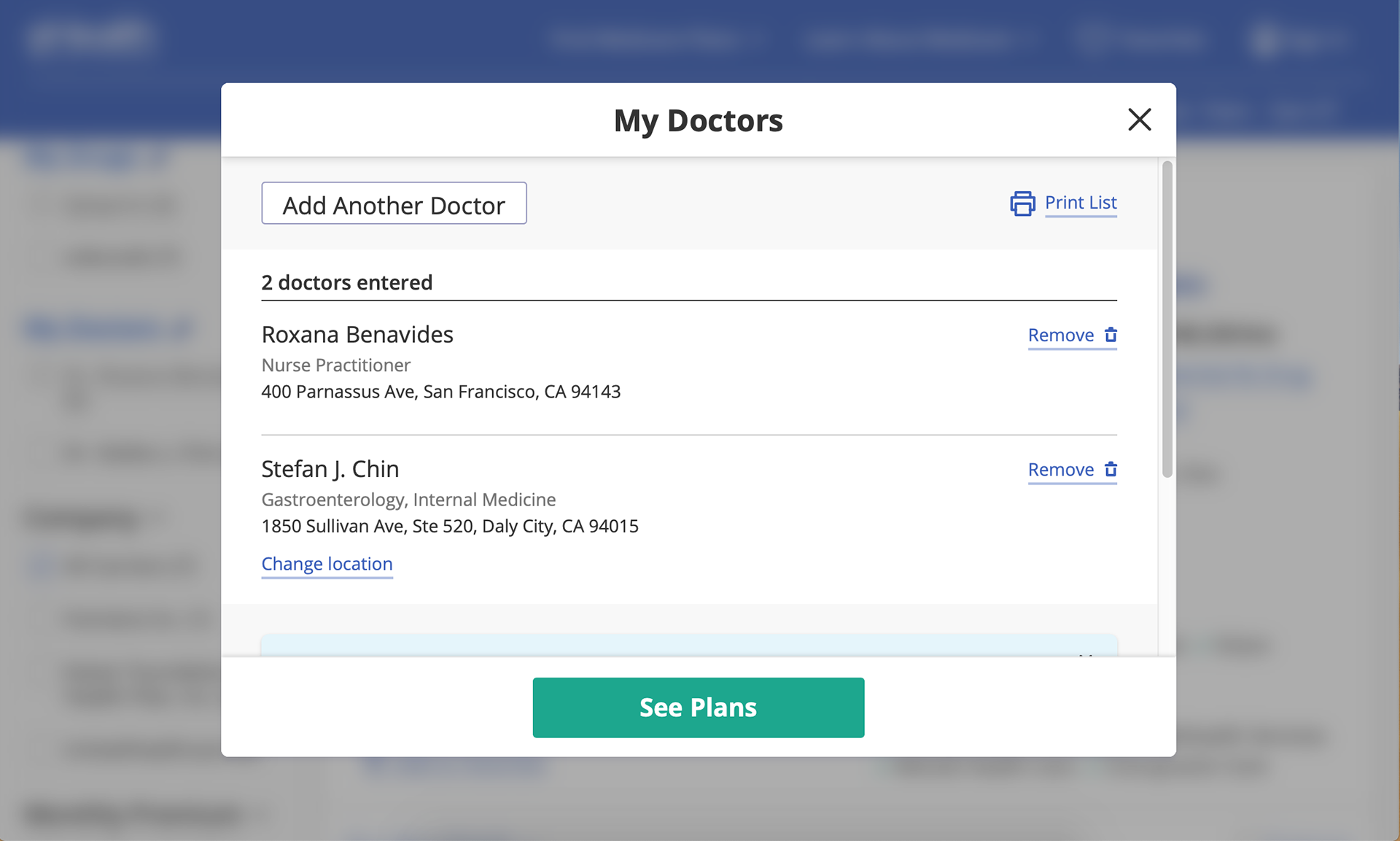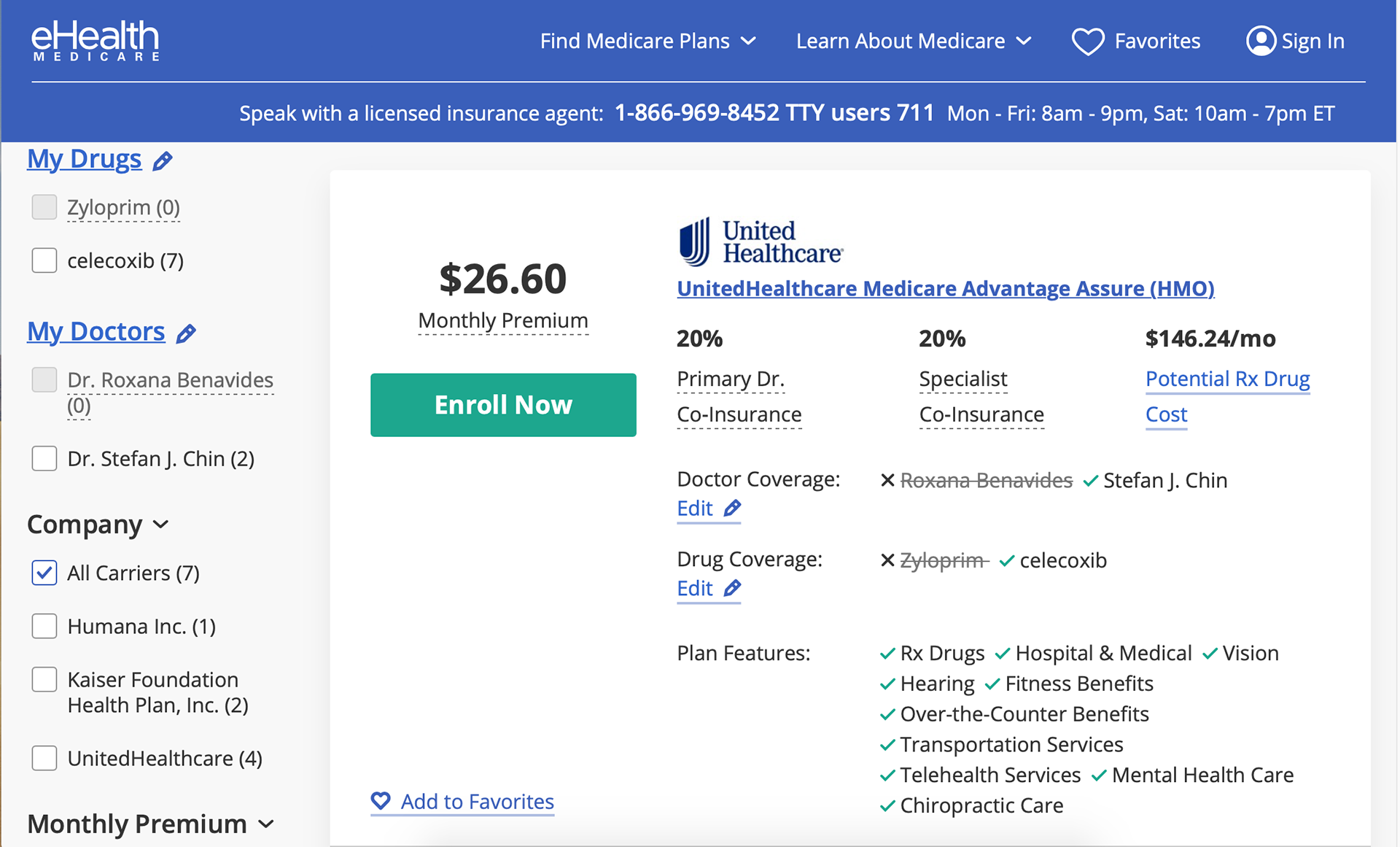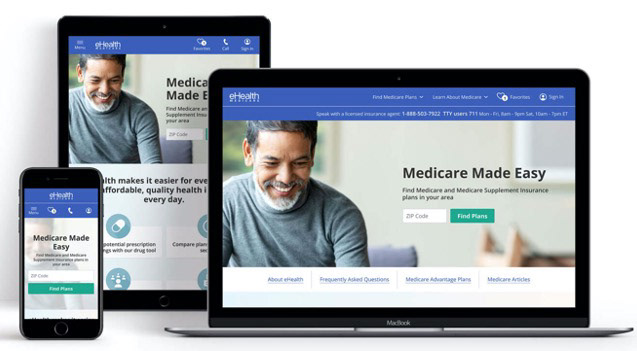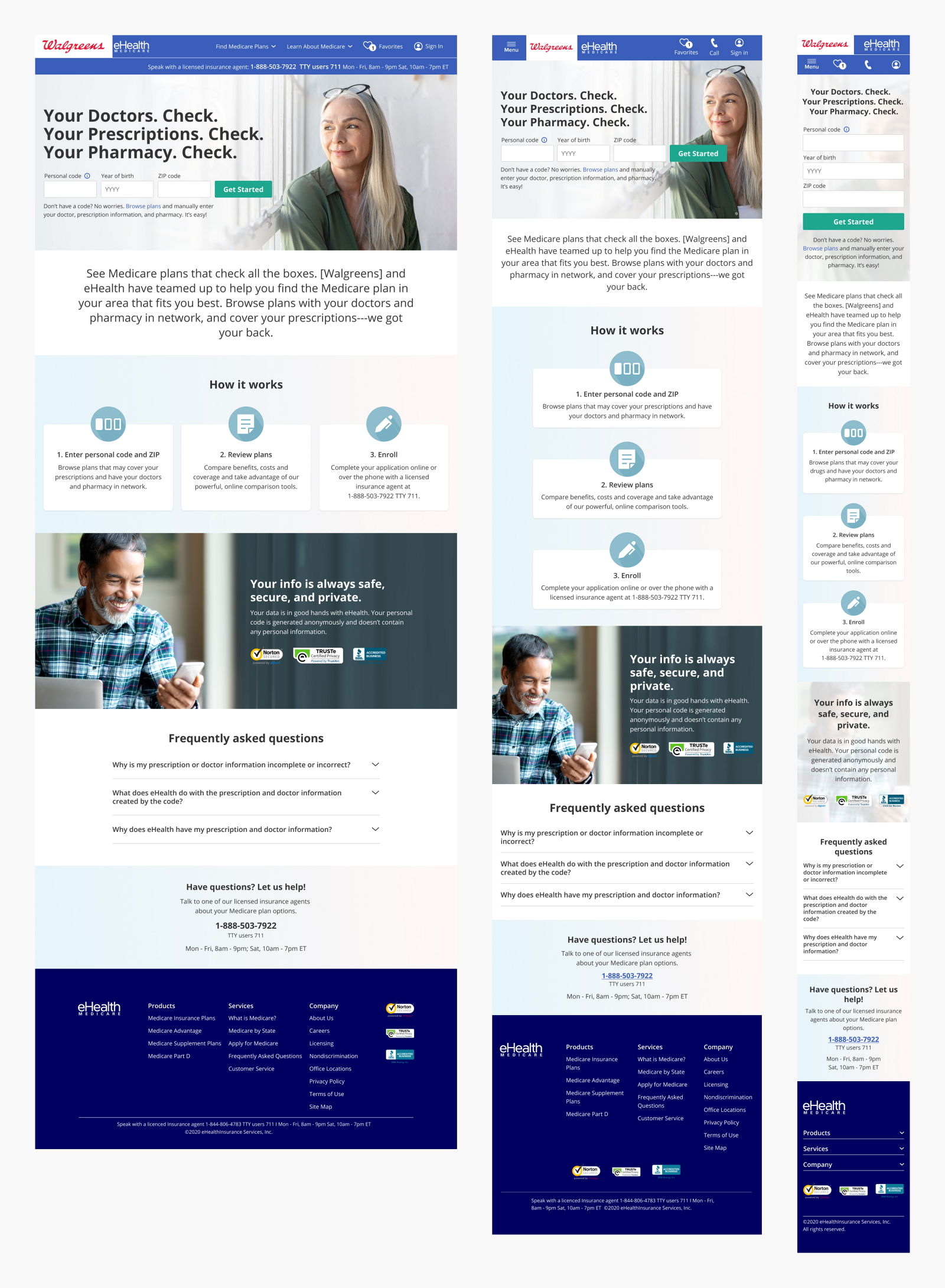 We also added a Customer Center where the customer could see all of their information as well as check in on the progress of their application. We also wanted the customer center to give our website a sense of place. 
Originally there was an issue though. The online Customer Center was going to launch out of sync with the work of the sales agents in phone center. This meant that any changes you made, or plans you bought, through an agent on the phone would not be reflected in the customer center. 
(Let me back up quickly, eHealth sells insurance both online and through phone based sales agents.)
I realized that this would have caused real problems for us as customers went to the online customer center to review what they had enrolled in earlier over the phone with an agent and seen that they had not applied to any plans. There were a variety of negative scenarios that would come up for us if we did not synchronize our online shopping experience with the phone sales team. 
So I began championing this synchronization by meeting with my peers in product, platform and engineering to gain support for my view as well as assemble a plan for implementation. The actual tech effort behind this synchronization was not easy at the platform level but a plan for that was found. After several months advocating for this feature with leadership by all of us, the funding and time on the roadmap needed to push it forward was approved.
The Customer Center was a success. Originally it was hoped that eHealth would have 10,000 customers register in the Customer Center by the end of the 2020 shopping season. In actuality it was at 100,000 by then!

Here is the homepage for the Customer Center. I directed the design to be both functional as well as friendly.
Outcome
In 2019, under my direction, the UX improvements we made were largely responsible for increasing our online (vs. phone) applications by 50%. In 2020 through this redesign, we increased the number of online applications by 50% again.
Afterwards a peer who worked with me on this redesign told me "You are a genius. You can see around corners."